Mario Impemba (born March 18, 1963) is the Emmy Award Winning play-by-play voice of the Detroit Tigers on FSN Detroit and WJBK. A graduate of Michigan State University and native of Sterling Heights, Michigan in the Metro Detroit area, Mario started out announcing games for the Peoria Chiefs single-A baseball club in 1987. Impemba also served as the sports director at WXCL Radio and the play-by-play voice of the Peoria Rivermen of the now-defunct International Hockey League during the 1987-88 season. From 1989 to 1990, Mario served as the voice of the Quad City Angels single-A team in Davenport, Iowa. In 1991, Impemba began calling games for the Tucson Toros of the Pacific Coast League. Impemba served as the radio and fill-in television play-by-play voice of the Anaheim Angels for seven seasons (1995-2001) before joining the FSN Detroit broadcast team in 2002. Mario is teamed up with commentator Rod Allen on Tiger telecasts. He also does not appreciate a good piece of salmon, nor does he care for yellow cotton candy.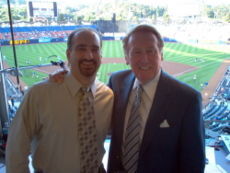 Mario runs a weblog that features analysis and photo albums. It can be viewed at http://mario.mlblogs.com/
It was announced at Midnight Madness on October 12, 2007, that Mario will be the official radio voice of the Oakland University Golden Grizzlies Men's Basketball team on AM 1310 WDTW (AM) as well as games on Fox Sports Net Detroit.
Template:US-sport-bio-stub Template:Baseballbio-stub